The Canada Revenue Agency (CRA) is now requiring businesses to set up their own CRA online accounts. If you have a corporation, or a sole proprietorship with a GST/HST or payroll account, you will now need a My Business Account. This will ensure your account is protected by enabling you to monitor your accounts for any suspicious activities such as unprompted changes to your banking and mailing address information, unapproved changes on benefit applications made on your behalf, etc.
Benefits of registering for My Business Account:
Update information about your business (name, address, banking information, etc.),
Manage your CRA mail/messages,
View your corporate income tax notice of assessments, account transactions, balances, and payments you have made
View payroll and GST/HST accounts and filings,
Most importantly, authorize a new representative.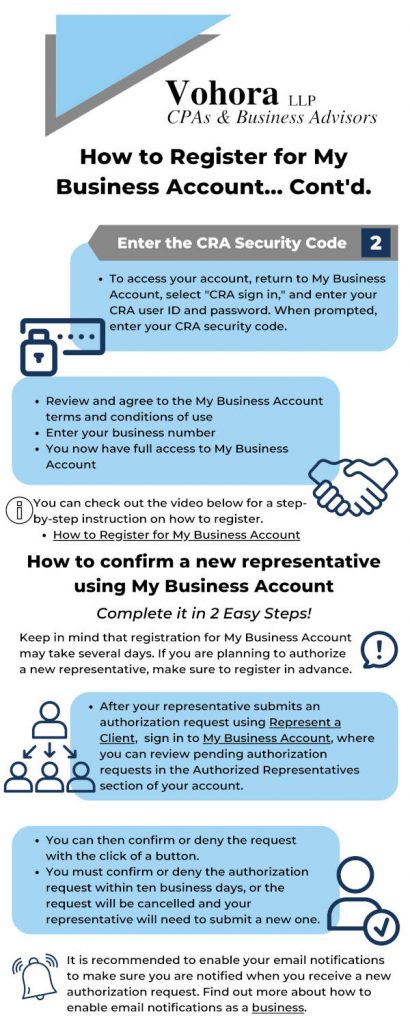 How to Register for My Business Account
Below are easy to follow steps on how to register for My Business Account. Take a look at our infographic to assist you with the steps below. To get started, click here.
Go to CRA My Business Account Website, scroll to "Option 2 – Using a CRA user ID and password" and select "CRA register"
Enter your Social Insurance Number (SIN)
Enter your date of birth
Enter your current postal code or ZIP code
Enter an amount you entered on one of your income tax and benefit returns. Have a copy of your returns handy. The line amount requested will vary, it could be from the current tax year or the previous one. To register, a return for one of these two years must have been filed and assessed.
Have your CRA security code, which is required to gain full access to My Business Account, delivered by Mail or Email.

Depending on the delivery method you have chosen, you will be asked to confirm your current postal code or zip code or enter your email address.
If you chose delivery by mail, receiving your CRA code typically takes 10 business days. If you chose delivery by email, you need to call the CRA. Their phone number is 1-800-959-5525.

Create a CRA user ID and password.
Create 5 security questions and answers. You can also decide if you want a persistent cookie added to your computer, so that you can access CRA sign-in services using that same computer later without being asked for more identification.
Review and agree to the terms and conditions of use by entering your password and selecting "I agree".
Enroll in mandatory multi-factor authentication by selecting your preferred method (telephone or passcode grid). For more information, see multi-factor authentication.
Enter your business number.
To access your account, return to My Business Account, select "CRA sign in," and enter your CRA user ID and password. When prompted, enter your CRA security code.
You can also sign in to CRA sign-in services with a Sign-In Partner. This option lets you sign in with the same sign-in information that you may already have, such as for online banking. For more information, see Sign-In Partners Help and FAQs.

You may run into some issues with the connection between the CRA site and your bank sign-in so this sign-in method is not recommended.

Review and agree to the My Business Account terms and conditions of use.
Enter your business number.
Check out CRA's video below for step-by-step guide on how to register.
How to confirm a new representative using My Business Account
After you have finished registering for a CRA My Business Account, you are ready to confirm and authorize new representatives. Keep in mind that registration for My Business Account may take several days. Plan ahead and register for a CRA My Business Account in advance.
After your representative submits an authorization request using Represent a Client, it only takes two easy steps to confirm:
Sign in to My Business Account, where you can review pending authorization requests in the Authorized Representatives section of your account.
Confirm or deny the request with the click of a button.
Remember that you need confirm or deny the authorization request within ten business days, or the request will be cancelled, and your representative will need to submit a new one.
We recommend that you make sure to enable your email notifications to make sure you are notified when you receive a new authorization request. Find out more about how to enable email notifications as a business.
Need further assistance?
Give one of our offices below a call for any questions/concerns regarding setting up your CRA accounts.
Vancouver: 604-251-1535
South Surrey: 604-541-9890
Mission: 604-826-1631
Prince Rupert: 250-624-2300